The California Building Code, 2022 edition
We've put a lot of thought into CBC 2022 and had many discussions about it internally at ENERCALC. To be clear, this page is not intended to be or provoke criticism of CBC 2022. There's not much to gain from that for us or you. 
Our focus is on what our customers are seeing, dealing with, how they are coping with whatever they are encountering, what roadblocks or workarounds they might be seeing, and how we can help with all of that within the scope of our software.
In the past, we supported CBC 2019 at some level. WIth CBC 2022, we've started with a different approach because of the process we're about to unwrap below.
Let's lay out some detail that you'll need to navigate CBC 2022 and then get to the process itself.
CBC 2022 jurisdictions and acronyms
CBC 2022 adopted IBC 2021 as of January 1st, 2023, with some revisions. First, we've provided a table of jurisdictions – these are important because of the acronyms that guide you to other documents and explanations.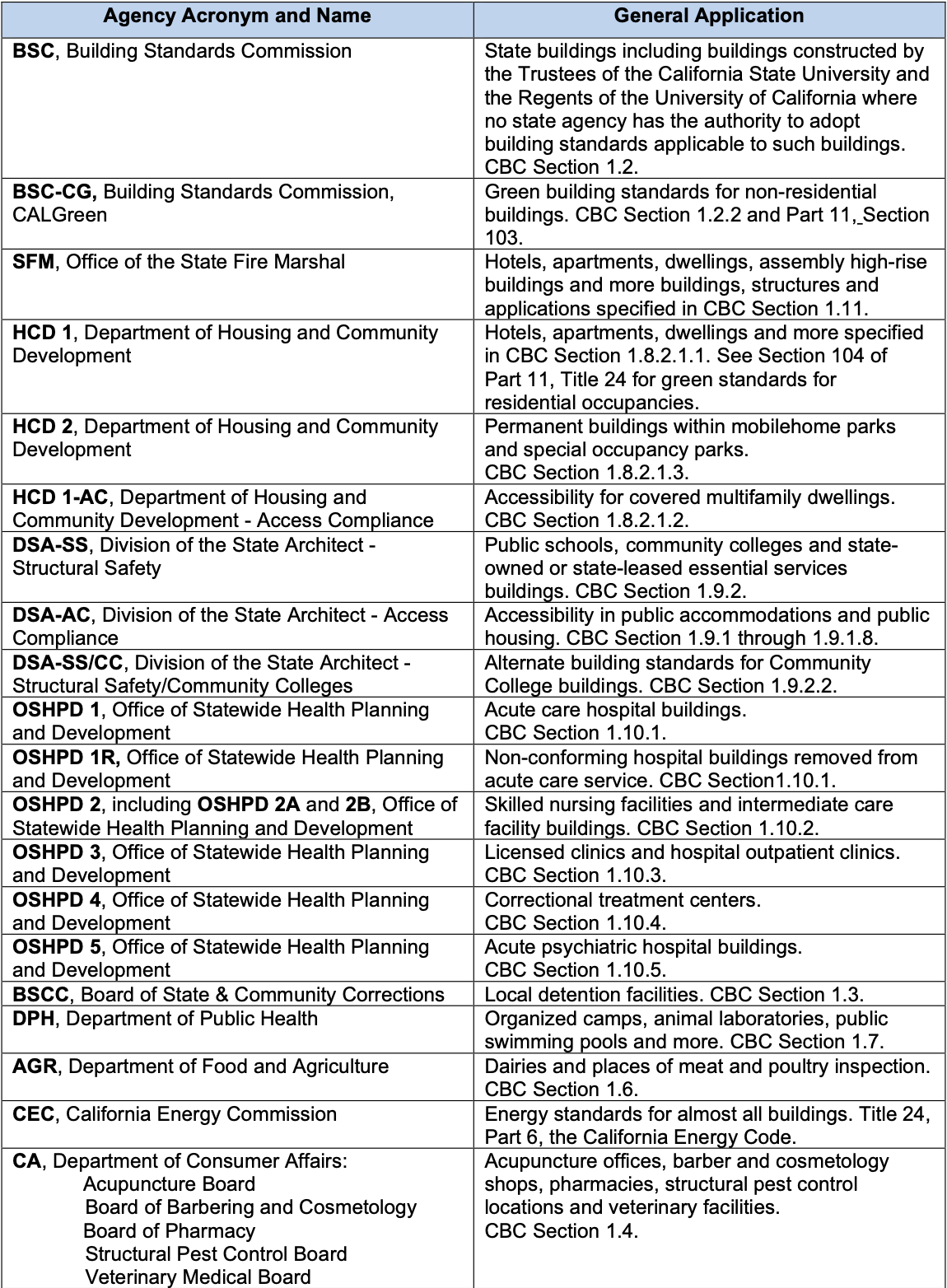 From the state's "Guide to Title 24"  – July 22 (5th edition)…
Some state agencies with adoptions to be enforced by local government are:
BSC-CG for green building standards in the California Green Building Standards
Code (CALGreen, Part 11 of Title 24) for nonresidential buildings.

HCD 1 for residential occupancies.

HCD 2 for permanent buildings in mobilehome parks and special occupancy
parks where a local enforcement agency has assumed enforcement of the
Mobilehome Parks Act in HSC, Division 13, Part 2.1, and Special Occupancy
Parks Act in HSC, Division 13, Part 2.3, and implementing regulations in
California Code of Regulations Title 25.

HCD 1-AC for accessibility in privately funded multifamily dwellings as defined in
the CBC.

DSA-AC for accessibility in public buildings funded by local public funds other
than state funds, public accommodations, commercial facilities and publicly
funded housing.

OSHPD 3 for licensed clinics.

SFM for hotels, motels, lodging houses, apartments and dwellings, assembly buildings

and others. 
A summary of the engineer's process for using CBC 2022
We'll start with the 63 page pdf – "Guide to Title 24" that the state provides. You can get your own copy at https://www.dgs.ca.gov/-/media/Divisions/BSC/05-Resources/Guidebooks/2022-Guide-toTitle-24-06-28-22-Final.pdf
Skip to page 23 of the guide pdf (using the guide's page numbers from the lower right corner of each page of the PDF).
The section of interest is "Procedural Steps for Using Title 24".
You'll also need a copy of Chapter 16:  https://codes.iccsafe.org/content/CABC2022P2/chapter-16-structural-design (presumably you have this document)
Here's a quick summary, but we strongly suggest reviewing and following the procedural steps provided by the guide linked above:
1) Identify Authority – determine which state agency or agencies have authority and jurisdiction for your project's occupancy, features, or equipment.
2) Check the Matrix Adoption Tables – determine which portions of Chapters 16-23 were adopted by the agency or agencies from step 1 and thus identify the specifics of the code(s) applicable to your project. 
For each chapter's matrix adoption table, determine which sections apply based on the authority having jurisdiction.
Chapter 16 Structural Design
Chapter 16A Structural Design
Chapter 18 Soils & Foundations
Chapter 18A Soils & Foundations
Chapter 19 Concrete
Chapter 19A Concrete
Chapter 21 Masonry
Chapter 21A Masonry
Chapter 22 Steel (a portion of this chapter's matrix adoption table is provided below)
Chapter 22A Steel
Chapter 23 Wood
3) Apply the code(s) identified from step 2, using the options provided when a) a state agency has authority or b) no state agency has authority.
4) Apply local amendments.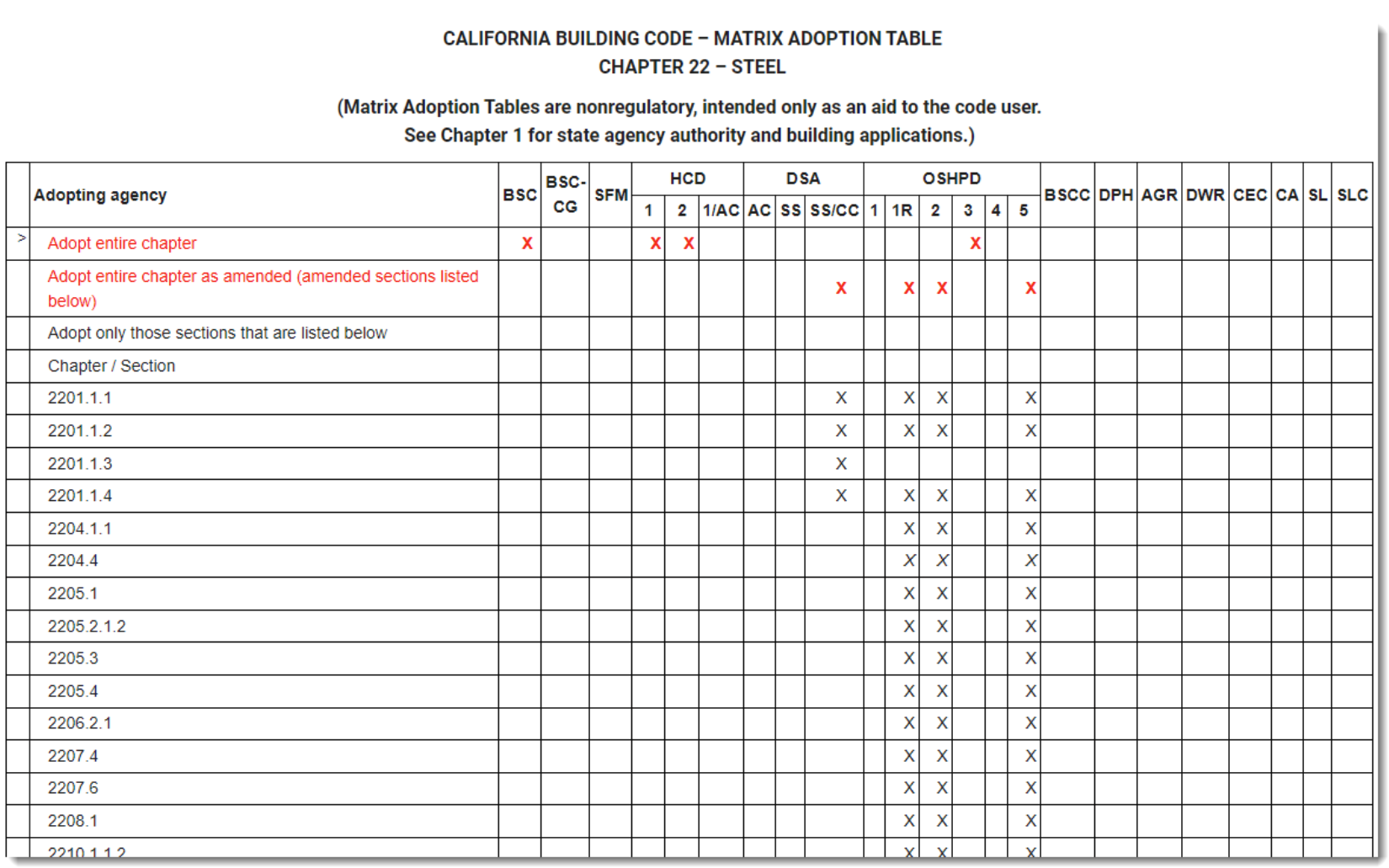 Automating this process
Even for a single beam, the engineer needs to navigate multiple chapters to evaluate the MAT for the applicable chapter(s). For software to do this properly (no matter what level of compliance a software vendor implies they are providing), the software needs to know more than the physical characteristics of the beam, loads, etc.
The software already knows the material qualities, procedures and rules (etc) for each chapter. In order to properly support CBC 2022, our software additionally needs to know which agency or agencies have jurisdiction over your project. Without that information, the software cannot know which set of adopted / overridden / supplemented / waived sections to apply to your design when making a go / no go assessment of your design.